The Mekong starts out as a trickle in snowbound country around 5,200 metres in Tibet. The river gathers momentum, becoming a roaring torrent as it swirls through deep gorges, dropping an astonishing 4,500 metres in elevation through Tibet and China, over a distance of 1,800 kilometres—before turning tamer in Laos. The entire length of the river is estimated at 4,350 kilometres.
The river is known under many names as it courses through different nations: Dza Chu (Tibet), Lancang Jiang (China), Mekaung Myit (Burma), Menam Khong (Thailand), Tonle Thom (Cambodia), and Song Me Kong (Vietnam). There are more name variations for upper, middle or lower reaches within China. In Vietnam, at the tail-end of the river, the sprawling Mekong Delta is called Song Cuu Long (Nine Dragons River).
Large Dams
Huaneng Corporation has constructed most dams on the Mekong, including Xiaowan and Nuozhadu. There are currently six huge dams in operation in Yunnan, SW China: Nuozhadu, wall height 261m; Xiaowan, wall height 292m; Manwan, wall height 132m; Dachaoshan, wall height 111m; Jinghong, wall height 110m, and Gongguoqiao, wall height 105m. There are another four mega-dams on the drawing board within China, and more large dams under way in Laos and projected for Cambodia, with Chinese backing. Three major dams are under construction on the Mekong mainstream in Laos—at Xayabouri, Pak Beng, and Don Sahong. Bad news for fish, and very bad news for fisheries.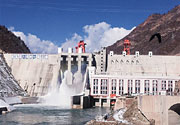 Guoduo Dam, 165 MW capacity, started in 2014. Sited on a Mekong tributary north of Chamdo, this dam was built to power Yulong Copper Mine, the largest in Asia
The first big dam on the Mekong, the Manwan Dam, opened in 1994. Up until then, the Mekong River was barely touched. The colonial French tried a few things—mostly blasting rocks to improve navigation by boat. Since the start-up of Manwan Dam in Yunnan—and the addition of three more mega-dams—there has been lots of trouble. As of 2010, the Mekong region is suffering its worst drought in five decades, with parched landscapes in Yunnan, Laos and Thailand. Water levels are so low that the turbines in some dams, like Jinghong Dam in Yunnan, cannot operate.
Nuozhadu is a colossal dam, with wall-height of 261 metres, and an expected output of 5850 megawatts, the equivalent of five large nuclear reactors. The dam's reservoir is a whopping 226 km long. Work on this monster dam started in 2006, and was completed in 2014, with its huge reservoir slowly filling up.